Dukhan Bank Introduces Business Solutions Through ...
Dukhan Bank Introduces Business Solutions Through its New Mastercard Corporate Credit Cards
Posted 1 month 4 weeks ago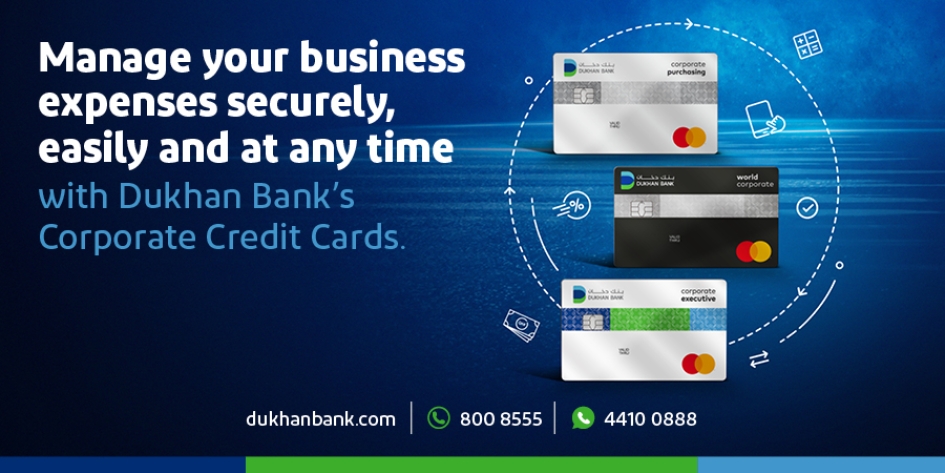 Doha, Qatar – 22 March 2022: Dukhan Bank, Qatar's leading banking player, and Mastercard have announced the launch of a set of corporate credit cards that will cater to the needs of its commercial clientele. The Mastercard corporate credit cards are designed to offer fast, reliable, and convenient payment solutions for businesses alongside benefits that are curated specifically for its corporate customers.
The three new Mastercard credit cards can be used between all levels of management and for varying purposes including travel, leisure, and everyday payments. The Metal Mastercard Corporate World Card is tailored to business owners and high-net-worth individuals while the Plastic Mastercard Corporate World Card is targeted at senior management while they manage their travel and other business expenses. Moreover, the Mastercard Corporate Executive Card caters to mid-level executives and the Mastercard Corporate Purchasing Card is designed specifically for payments, delivering flexible financial solutions to small, medium, and large-sized businesses.
The Dukhan Bank Mastercard Corporate Credit Cards have been designed to allow corporates, businesses, and SMEs to effectively manage their expenses, payables, and overall cashflow. It also provides better visibility over corporate purchasing decisions and general expenditures. With the Dukhan Bank Mastercard corporate cards, companies can save time and money while managing their business expenses. It also eliminates the need to work on expense reports and invoices, saving valuable time that can be used towards developing other aspects of the business.
All four cards will offer convenience that ranges from making day-to-day expenses, supplier payments, utility bills, managing travel expenses as well as making governmental and business-to-business payments.
Commenting on the release of the credit cards, Mr. Talal Ahmed Al-Khaja, Dukhan Bank's Chief Marketing & Communications Officer stated:
"Purposed for the use of businesses in Qatar, our Mastercard corporate credit cards allow customers to benefit from managing internal finance processes by offering the simplicity of use while at the same time extending privileges that are catered towards the aspirations of our business clientele. We are pleased to introduce the new cards to our customers who can always look forward to the best-tailored business solutions as part of Dukhan Bank's continuously evolving, high-end services."
Nadia Ghissassi, Country Manager for Qatar, Oman and Kuwait, Mastercard, added:
"Building on our long-term strategic partnership in Qatar, we are pleased to announce the launch of our Mastercard Corporate Credit Card solutions with Dukhan Bank. These innovative payment solutions are tailor-made to assist businesses in managing all their purchases and expenses, which in turn improves their overall efficiency and transparency. At Mastercard, we are focused on
supporting enterprises of all sizes by providing them with solutions that enable them to scale, grow and digitize their business in order benefit from the digital economy."
Dukhan Bank's corporate customers opting for the credit card will immediately be privy to a host of specialised products and services curated specifically to match their requirements. This includes corporate liability waiver insurance of up to $25,000 against unauthorised payments, alongside travel inconvenience and medical insurance coverage. It also offers exclusive lounge access to over 1,000 airport lounges world-over, discounts on flights and hotels with Cleartrip as well as discounts and complimentary upgrades on Hertz car rentals.
This is alongside global Wi-Fi access across 100 countries, and discounted rides on Careem, and access to My Book Qatar, which entails hundreds of two-for-one offers on food and leisure experiences, and access to Priceless Cities, a global collection of 77 cities available to customers across 43 countries.
Dukhan Bank offers its clients a high-quality financial portfolio of products and services that include an award-winning mobile application, best-in-class Islamic finance services, and state-of-the-art business banking solutions to meet the aspirations of its customers. Currently, the bank heads a robust digital transformation that seeks to reimagine banking by offering a secure, simplified, and seamless experience to its customers as it reaffirms its position as 'Qatar's Bank of Choice'.
Customers can learn more about the corporate credit cards through Dukhan Bank's website www.dukhanbank.com or by calling the Contact Centre on 800 8555.